Yesterday I made my first ever pumpkin bread! It took a little checking up on since I made one loaf and pumpkin muffins, but it turned out really yummy and...dare I say it? Moist (cue cringing). I figured I wanted to try something involving pumpkin before I got sick of seeing it all over Tastespotting. The recipe I used was off of epicurious.com, and makes 2 loaves (I only had one loaf pan and a short attention span so I improvised with the muffins and baked them simultaneously). I just love the light sweetness of the bread. It goes great with walnuts sprinkled on top and some cream cheese spread over the top. Enjoy!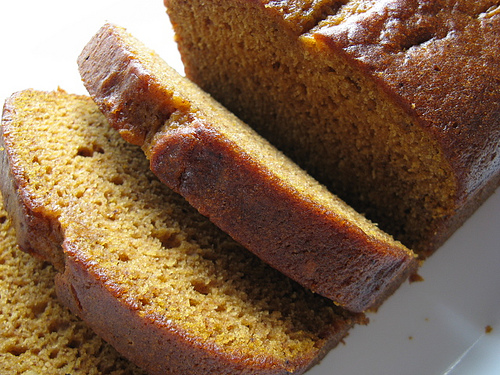 Spiced Pumpkin Bread
from epicurious.com
Ingredients
3 cups sugar
1 cup vegetable oil
3 large eggs
1 16-ounce can solid pack pumpkin
3 cups all purpose flour
1 teaspoon ground cloves
1 teaspoon ground cinnamon
1 teaspoon ground nutmeg
1 teaspoon baking soda
1/2 teaspoon salt
1/2 teaspoon baking powder
1 cup coarsely chopped walnuts (optional)
Preparation
Preheat oven to 350°F. Butter and flour two 9x5x3-inch loaf pans. Beat sugar and oil in large bowl to blend. Mix in eggs and pumpkin. Sift flour, cloves, cinnamon, nutmeg, baking soda, salt and baking powder into another large bowl. Stir into pumpkin mixture in 2 additions. Mix in walnuts, if desired.
Divide batter equally between prepared pans. Bake until tester inserted into center comes out clean, about 1 hour 10 minutes. Transfer to racks and cool 10 minutes. Using sharp knife, cut around edge of loaves. Turn loaves out onto racks and cool completely.
image courtesy blogchef.net