I came across this post via Liqurious-a wonderful recipe from
Chaos in the Kitchen
. Roy's is a fusion restaurant with several locations in Hawaii-not to miss if you're ever in the islands. They create their own pineapple-infused martinis, and frankly look too good NOT to make. Heres the recipe: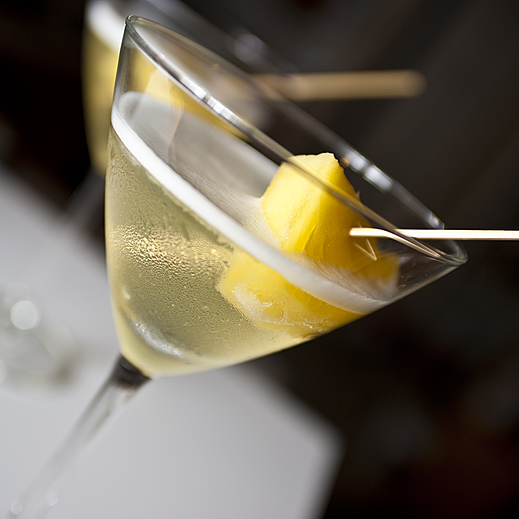 Hawaiian Martinis
makes 2500 ml, prep 10 minutes, allow to infuse about 1 week
2 750 ml bottles vodka
500 ml vanilla vodka
500 ml coconut rum (like Malibu)
2 fresh pineapples, cut into 1 inch wedges
In a large (6 quart) container with a spigot-such as a lemonade, ice tea, or a punch dispenser-layer pineapple.
Pour alcohol over pineapple making sure to completely cover the pineapple.
Allow to infuse at least a week, will stay good much longer as long as the pineapple slices remain submerged.
To serve (makes 2 drinks), measure out 4-6 oz liquid. Add along with ice to a martini shaker and shake vigorously.
Strain into two martini glasses, garnish with a wedge of marinated pineapple.
Doesn't that just sound delicious? I love pineapple, I love rum-whats not to love? Check out more recipes and gorgeous pictures from
Chaos in the Kitchen
!
photo via chaos in the kitchen